Following a comprehensive financial and employment law review of our business by independent assessors, we are pleased to announce we have successfully attained the FCSA Accreditation.  As part of the review, in addition to financial stability tests, the external auditors assess all our processes and procedures ensuring iConsult adheres to the FCSA Codes of Compliance.
Being FCSA Accredited demonstrates to contractors and recruitment businesses that FCSA members are acting both professionally and ethically within the UK tax, employment and regulatory laws. The FCSA Accreditation is confirmation that professional businesses like iConsult are at the forefront in delivering the greatest levels of industry standards.
With a great team of industry professionals, iConsult offer contractor umbrella and CIS payroll services to the UK's flexible workers. Since our inception, the business has continued to grow and the FCSA Accreditation is the next natural step in our evolution.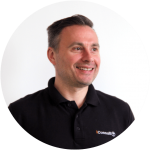 Steven English (Company Director)
"We're extremely proud to have achieved the FCSA Accreditation. We have always put customer service and compliance at the heart of what we do. Having been awarded the accreditation, we are extremely pleased as it clearly demonstrates our stance on removing any risk for our recruitment agency partners and contractors from the vast array of legislative requirements and potential pitfalls when operating, as we do, in the compliant Umbrella Company space."